Ashtrom is a publicly-traded construction group, headquartered in Israel, with a global annual turnover of just over £850M. 
Ashtrom is the general contractor in the 5-year £215M Da-Vinchi Project, consisting of two mixed-use 44 story highrises, with a connecting bridge.  
According to Ronen Gorlinski, the Area Director for the group in charge of the project, 
"We used to use emails and RFIs in other project management software which is basically in-mails. These are bad methods, I think. Firstly, these are communications between one person to another, or from one person to a group. It doesn't always include every person involved in the project, and the actual situation is not completely transparent."
"Secondly, it's harder to manage the outcome. One person forgot the attachment; the other answered twenty days later, the third didn't CC you, so you have no idea what's going on."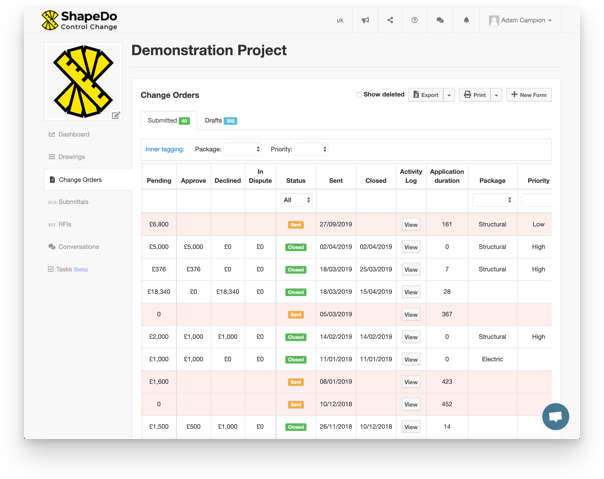 Seamless platform – Ronen has worked for years with other project controls software but says ShapeDo has a significant advantage. "One thing I love about ShapeDo is that the platform works naturally with emails. Even those who don't use ShapeDo can send an email, and the platform would attach the response to the right document". Hence, everyone who is working on the project can see everything at all times and can have a real sense of the project state. Ronen adds: "the knowledgeable clients understand that the clarity that ShapeDo provides is good for anyone, cause it helps us deliver the project on time".
Collaboration environment – When everyone communicates communally, it also becomes easier to see when something is missing. "I have a dashboard, and I don't need any to-do-lists or post-its. I can see the movement. RFI's are opening, RFI's get closed. I can track it easily. Where there is less movement, then someone is not asking enough questions. I know that's an area I need to investigate, cause someone is making hasty decisions". 
Full Audit Trail – Ronen says that everyone involved participate in a weekly meeting, discuss the open RFI's, close that ones that are irrelevant and move on. "When the general contractor is well organised, the other parties can get upset, because if something goes sour, it's not my fault. I have a proof that I've asked the question, made a warning, and there was no response". 
Flexible personalisation – As the project develops, the specs of the perfect RFIs might change, reliant on the information needed. Ronen comments about ShapeDo's flexibility: "I have to say, I was pleasantly surprised.  I would make a phone call, request a change to the forms, and I would get it done the next day. An outstanding service!"
RFI Response Time
According to a research issued by the Navigant construction forum, titled "IMPACT & CONTROL OF RFIs ON CONSTRUCTION PROJECTS" (2013), the average response time for an RFI worldwide stands on 9.8 days. In comparison, the Da Vinci project response time is a mere 5.7 days, a staggering 41% improvement.
No response RFIs
The same research tracks the number of RFIs that get no reply at all. According to the research, "This statistic is a leading indicator of fundamental problems with the project, such as an inefficient RFI management response system or the absence of adequate controls and procedures governing the processing of incoming RFIs and generation of prompt responses". The avg. number of no response RFIs in the world is around 24%. Da Vinci project numbers of no response RFIs are around 4%, an overwhelming 75% decrease in the number of RFIs that never got any comeback.